Welcome to Vancouver Fountains
Photos of Vancouver's amazing fountains!!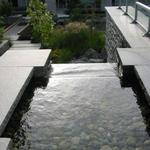 Kings Landing This is one of the newest developments on False Creek, the old Expo Lands, sold for a song to offshore interests, who are by now longtime onshore interests, and who have developed thoughtful, even gracious, unending access to the waterfront, minimal sight line disruption with well spaced, light coloured and glass towers and interesting and useful public spaces. As I walked past this cluster of towers and townhouses I heard the sound of flowing water. Walking into the automobile roundabout, I saw a small basin with water that appeared to spill out into the courtyard below where glimpsed falls, a small creek, more ponds? But I could barely snap these two pictures before a polite voice asked 'Can I help you?' Turns out security is tight at Kings Landing, which the residents will be pleased to hear about, not even my official Vancouver Fountains badge got me in. So, if the strata board is interested, please invite me to take some pictures!
Address: 428 Beach Crescent, Vancouver
---