Welcome to Vancouver Fountains
Photos of Vancouver's amazing fountains!!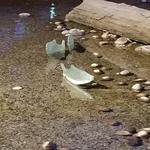 YVR Salmon Run As a former environmental scientist who has done a lot of salmon habitat related work around the Vancouver Lower Mainland I can tell you this is the real deal imitation stream. Crikey mate. Its huge. Its involved. It has beautiful frosted glass salmon sculptures swimming upstream. Surrounded by quiet and cosy seating nooks you might feel you have been transported to BC's wilderness. At one end is a fountain with a nice statue and at the other is a massive aquarium with real BC coastal fish. Just wow! Right now I am standing up and slow clapping.
Address: Vancouver Airport, Vancouver
---